Archive for the 'Climate change' Category
Share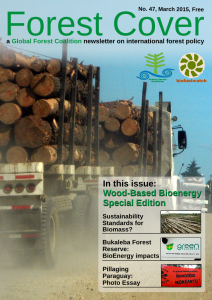 Welcome to a brand new edition of Forest Cover, the Global Forest Coalition newsletter that provides a space for Southern and Northern environmental justice activists to present their views on international forest-related policies. We were happy to co-produce this special edition, which focuses on the impacts of wood-based bioenergy on forests and forest peoples, with our active member group Biofuelwatch. Download the print version to read on about bioenergy, forests, a summary of the international strategy meeting, a photo essay on impacts of unsustainable livestock farming and on wood-based bioenergy and a case on the Bukaleba Forest Reserve.
You can download the print version below or read the articles individually online. For future editions, you can subscribe to our newsletter by writing to gfc@globalforestcoalition.org
Download the print version (high resolution PDF) (low resolution PDF)
Share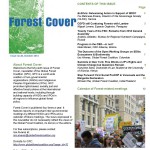 In this new issue of Forest Cover 46 you will find an interesting editorial on the views of civil society in the Pacific about the 3rd United Nations Small Islands Developing States (SIDS) Conference, followed by a report from former GFC's chairperson Miguel Lovera who attended the Food and Agriculture Organization's (FAO) Committee on Forestry (COFO) in Rome last June. Likewise, Anatoly Lebedev from Russia brings some insights on what the last FSC General Assembly was; Nele Marien, from the CBD Alliance based in Bolivia tells us a bit about the preparatory meetings leading to the CBD's COP 12 which is currently happening in Pyeongchang. Read more »
Share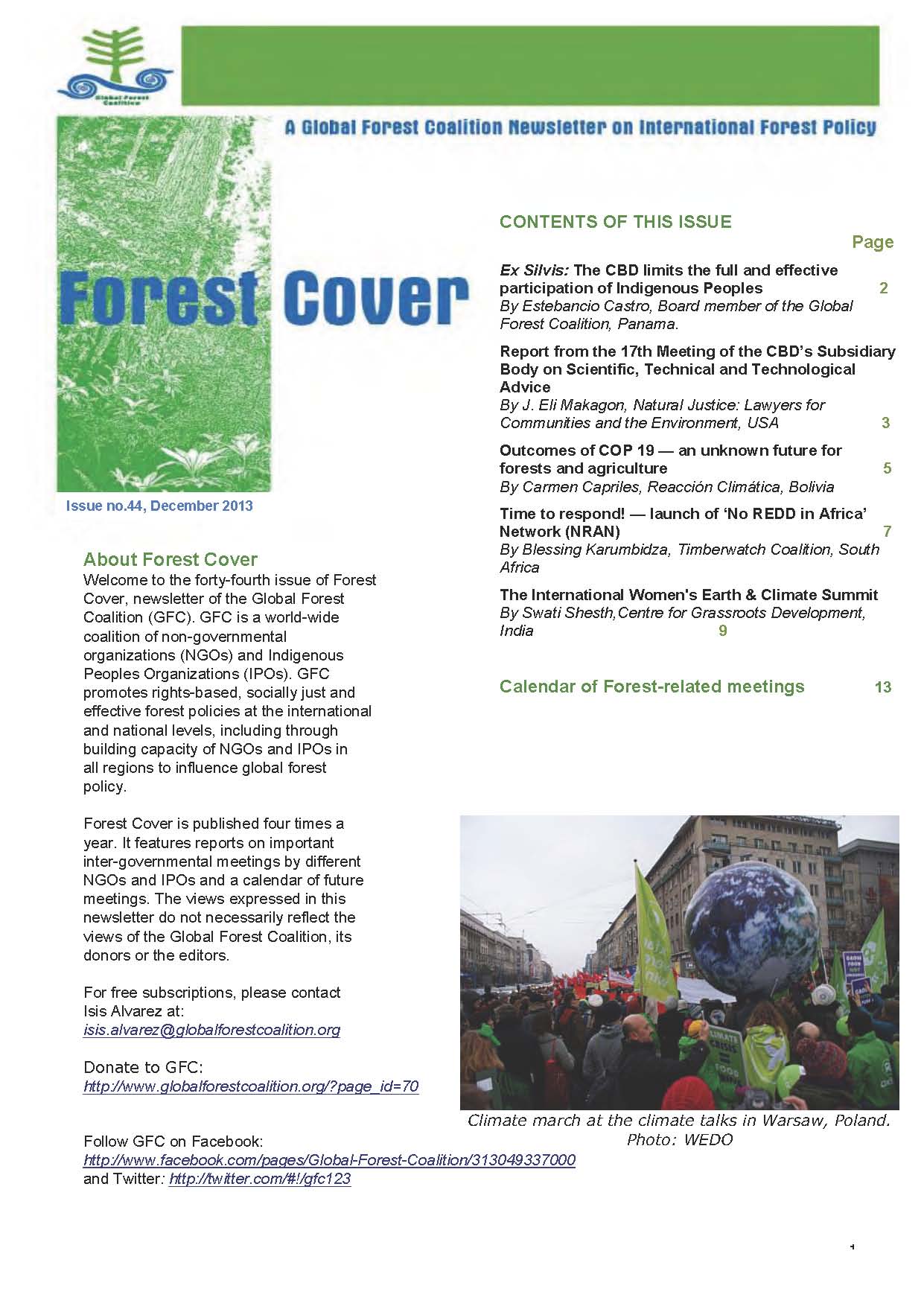 The year 2013 is almost to a close, a year that was marked by many challenges to the rights of forest peoples and growing threats of green land grabbing, while key policy changes to address the drivers of forest loss continue to be postponed. But we also saw growing recognition in 2013 that respecting the rights, needs and role of Indigenous Peoples, local communities and women forms the cornerstone for effective, socially just forest conservation and restoration policies.  As a worldwide coalition of groups from 40 different countries we would like to thank our members, allies and supporters for their passion and hard work for forests and forest peoples' rights the past year. 
We are pleased to announce that the last Forest Cover of 2013 is now online in English and Spanish.
This issue includes reports from Indigenous and non-Indigenous campaigners from Panama, USA, Bolivia, South Africa and India on the latest meetings of the Convention on Biodiversity, the climate negotiations, and gatherings of activists on REDD+ in Africa and women and climate change.