Share
The Global Forest Coalition supports and coordinates joint NGO/IPO campaigns for socially just and effective forest policy and the rights of Indigenous and other forest peoples.  Our campaigns and other activities we work on: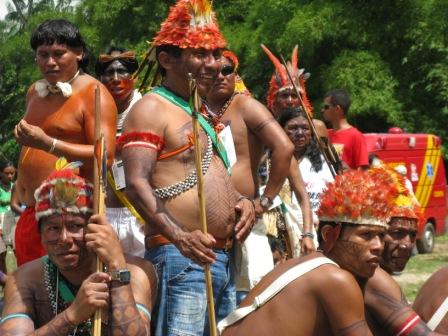 The concept of REDD (Reducing Emissions from Deforestation and Forest Degradation in Developing Countries) is to reduce global CO2 emissions by rewarding governments and communities for not cutting down or degrading forests. But the concept has serious social and ecological impacts.  In many countries it  undermines the rights of Indigenous Peoples and local communities and their access to natural resources.
The rapid expansion of the agrofuel and bioenergy industry is leading to massive deforestation, depopulation and human rights abuses worldwide.  Expansion of large-scale monocultures for 'energy crops' such as in industrial plantations of soybean, oil palm and eucalyptus, is impacting heavily on both forest ecosystems and Indigenous Peoples.
Genetically engineered (also called GM or Transgenic) trees pose a major threat to forest biodiversity and to forest peoples' access to resources. Large monocultures of both GE and non-GE trees are extremely harmful to both ecosystems and biodiversity with negative effects on the survival of forest dependent peoples.
Through members and partner groups in different countries we monitor and report on the implementation of key international forest-related agreements including the Convention on Biological Diversity (CBD) and the Framework Convention on Climate Change (UNFCCC). Comprehensive analytical reports are published.

Indigenous Peoples' Rights
We take the rights of Indigenous Peoples as a starting point in the fight to protect forests. This is necessary because Indigenous Peoples have often been evicted in the name of forest conservation.
Through case studies and campaigns we raise awareness of the social and environmental impacts of market-based conservation mechanisms, including certification schemes, carbon trading and offsets, gene trading and the sale of environmental services in general. We are particularly concerned about the impacts these schemes are likely to have on women in affected local communities, Indigenous Peoples and the rural poor
All our campaigns are focused on exposing and opposing the false solutions to climate change and biodiversity loss.